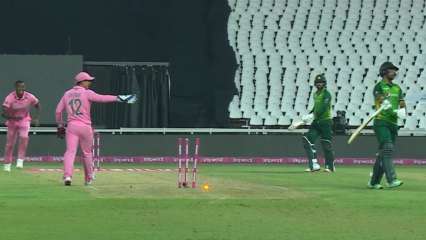 In the second ODI against Pakistan at Wanderers Stadium in Johannesburg, South African wicket-keeper batsman Quinton de Kock pulled off a huge deception act that changed the whole face of the game.
The act resulted in the wicket of batsman Fakhar Zaman who was batting on 193 and could have scripted a miraculous chase for his side despite wickets on the other end kept falling. 
Pakistan were chasing 342 and the Men in Green seemed all but lost at 120/5 in the 25th over. However, Fakhar Zaman took over the charge to try and get a victory for his side, but the cunning instance from the opposition wicket-keeper saw all going downhill from there.
The incident took place on the first ball of the last over. While Pakistan were all but out of the game, they required 31 runs to win in six balls. Fakhar Zaman had a chance to complete his double century, but it couldn't be fulfilled.
The batsman hit the ball towards the covers and started coming back for the second but he had a little stutter and the ball hit straight onto the stumps. 
However, replays showed that Quinton de Kock fooled him there. He pointed as though the throw was going to the bowler's end which made Fakhar Zaman falter on his run and look back, but fielder Aiden Markram had gone to the striker's end and de Kock let the ball hit the stumps, catching Zaman unawares.
Absolutely brilliant from #QuintonDeKock . Brilliant. @OfficialCSA #SAvPAK pic.twitter.com/6LIHaM9ZzV

— Tweeter (@tweetersprints) April 4, 2021
So was Quinton de Kock's act unlawful?
The deception act raised eyebrows as critics and fans were divided over what is right or wrong. According to Law 41 of the Laws of Cricket 2017 (Marylebone Cricket Club) Code talks about "Unfair Play". 
Law 41.5 of the Code i.e. "Deliberate distraction, deception or obstruction of batsmen" elaborates under 41.5.1 that it is "unfair for any fielder to willfully to attempt, by word or action, to distract, deceive or obstruct, either batsman after the striker has received the ball".
So if in case the umpires feel the fielder had "caused or attempted to cause such a distraction", they are empowered to inform both captains and award a 5-run penalty to the guilty side. 
Had that been the case at Wanderers, not only would Zaman been not out, but Pakistan would have received 5 runs in their total.