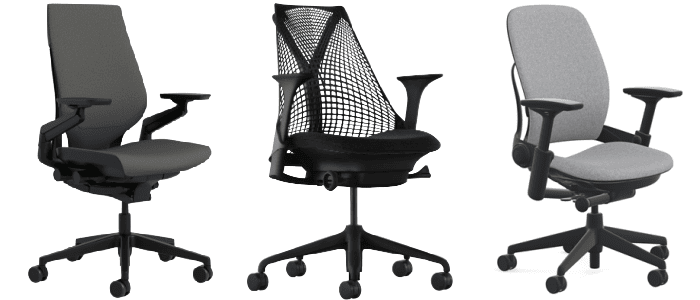 Hunting for the best office chairs for women — or more specifically, the best *fancy* chair to buy for your office? Readers have had a ton of conversations over the years, and I'm on the hunt myself, so I thought I'd comb through the comments to put everyone's thoughts together. Is a Herman Miller Aeron worth the money? Is the brand Steelcase better for women? Let's discuss.
To be clear: this article is for people who have decided they might want to invest in a fancy chair like Herman Miller or Steelcase — but aren't sure where to look first or what the differences are.
(I had, um, no idea… for example, the main one I'd heard of was the Herman Miller Aeron, but many readers have noted that they preferred other chairs much more for fit reasons.)
If you're looking for a more affordable, comfortable office chair, we've rounded them up in the past. The chair I've had for almost 10 years is the Ikea Markus ($289) and must say it's been comfortable, cool, and is quite adjustable. A number of readers also gave shoutouts to the classic balance ball chair, like this one from Amazon.
(I should also mention the super old school classic, the kneeling chair, like this one — I have owned two of these over the years and while I can see how they would be amazing for posture, I've never found them comfortable enough to sit in all day.)
Readers, have you gone on a hunt for the best office chair, either for your home office or to replace the one provided by your employer? (Do you have a "fancy" chair at the office, like an Aeron, and what do you think of it?) If you have a more affordable chair that you love, what is it?
We are a participant in the Amazon Services LLC Associates Program, an affiliate advertising program designed to provide a means for us to earn fees by linking to Amazon.com and affiliated sites.
This post contains affiliate links and Corporette® may earn commissions for purchases made through links in this post. For more details see here. Thank you so much for your support!
The Best Office Chairs for Women
Table of Contents
The Best Office Chair for Women Overall
Steelcase Leap
The number one name that kept coming up in the comments was the Steelcase Leap (followed by the Steelcase Gesture). A number of readers noted that they had bought it for their home office after comparing it to other office chairs that their company provided, including Steelcase Think and Herman Miller Aeron.
People who were both short and tall seemed to like it, and a number noted how adjustable the chair was.
Like the Steelcase Gesture, the adjustable armrests was something commenters frequently called out, with one noting that you can move the entire armrest to a narrow settings vs the more common "angling in the front of the armrest."
One woman noted that she ordered hers from Amazon in basic black.
The Leap comes in 30+ different colors, and you can add a headrest, as well as choose different adjustable arms (4-way vs height only). The minimum dimensions for the chair are a height of 38.5″ H x 27″ W x 21.75″ D, with maximum dimensions of 43.5″ H by 27″ W by 24.75″ D. The seat depth range is 15.75″-18.75," and the seat width is 19.25″; it has a weight limit of 400 lbs. The width between arms ranges from 12.75″-20″.
(Comparatively, the Gesture does have a wider range for width between arms: 10.25″-22.5″.)
The Best Office Chair for Petite Women
Herman Miller Sayl
A lot of readers noted that the Herman Miller Aeron comes in different sizes, and that compared to the Aeron Size A, many preferred the Sayl.
One commenter noted, "If you are on the shorter side and have the budget, try the Herman Miller Sayl chair. Traditional office chairs are always too large for me and not ergonomic, even the fancy ones. This one actually fits me (5'4″), has a low profile so you basically don't even see the chair when I'm sitting in a Zoom meeting, and the white looks great in my midcentury modern home office."
Another 5'1″ woman noted that when she went to buy a nice chair, the sales person didn't have one on the floor for her to try, but told her to "just come into the back office, all the women use these."
This is also one of the best chairs under $1000. It comes in 15+ different color options, and has minimum dimensions of 34.75″Hx24.5″Wx19.75″D (with maximum height of 39.25″). The seat height range is 16″-20″, the seat width is 18″, and it has a weight capacity of 350 lbs.
(Comparatively, the Herman Miller Aeron Size A ($1275) has dimensions of 38.5″Hx25.75″Wx16″D, a seat height range of 14.75″-19″, and a weight capacity of 300 lbs.)
The Best Office Chair If You're Very Narrow or Small
Steelcase Gesture
A number of Corporette readers who described themselves as "very narrow" said they loved the Steelcase Gesture, with many raving about the adjustable armrests. Sample comments:
"I thought I wanted HM for the style factor, but I am very narrow and couldn't get one to fit my body after trying several Aerons and other styles. Instead I ended up with a Steelcase Gesture which is adjustable in just about every way and now I have armrests that actually function instead of being too far away for me to use."
Another reader compared the Steelcase Gesture to the Steelcase Leap, noting, "The Leap arms were still just a little off for me but the Gesture is amazing. The arms felt much more substantial and customizable than the ones on the Leap. . . . The sales guy told me very small people tend to buy the Gesture, FWIW."
Many agreed that the price is expensive, but worth it. One commenter said it was "worth every penny and I would buy another without question." Another said it was "such a splurge but I've never regretted it." A third one said she thought it helped with her neck and shoulder pain.
There are a number of customizations you can make to the product — a bunch of colors (30+), fabrics, frame colors — as well as adding a headrest, lumbar support, or wheels for carpet (vs hardwood). The minimum dimensions for the chair are 39.25″ H x 22.375″ W x 21″ D, with maximum dimensions of 44.25″ H x 34.625″ W x 23.625″ D. The seat depth range is 15.75″-18.5," and the seat width is 19.25″; it has a weight limit of 400 lbs. The width between arms ranges from 10.25″-22.5″.
The Best Office Chair for People Who Fidget
Knoll by Generation
This one is a bit off book, because the recommendation comes from my brother, who got a Herman Miller Aeron chair but returned it because it made his back hurt. After research, he decided to go with Knoll by Generation (a Herman Miller company), swayed by reports he heard that it was more flexible and designed for people who fidget and move around a lot.
Here's the product description from Design Within Reach:
Freedom and flexibility are the guiding principles behind the creation of Knoll's newest ergonomic seating solution, the Generation Chair (2009). Recognizing that sitting upright and facing forward is just one of the many positions people take throughout the day, the design team behind the Generation Chair created a seat that moves with you, as you move. Providing both freedom of movement and continuous support, this ergonomic office chair is a groundbreaking example of elastic design – where a product rearranges itself in response to its user. The Generation Chair is manufactured by Knoll.
The general dimensions for the chair are 44.5″H x 28.5″ W x 26″ D; it is $1331 at Design Within Reach.
Along similar lines, one reader noted that she loved the Herman Miller Embody chair for the "bounce factor."
The Best Office Chair for a Splurge
Steelcase Gesture
Starting at $1331, this one isn't cheap, but it's one of the names that came up time and time again. As one reader noted, "it is obscenely expensive and worth every penny. I could not be happier with it."
Other pricy options include the Steelcase Leap (starts at $1006), the Herman Miller Aeron (starts at $1270), and the Herman Miller Embody (starts at $2270).
The Best Affordable but Fancy Office Chair for Women
Herman Miller Sayl
Of the chairs mentioned repeatedly, the Sayl was the most affordable, starting at $735.
A few people did call out the Steelcase Series 1 or 2 chairs. Series 1 starts at $450, and Series 2 starts at $588.
(Of course, a number of readers have noted that if you're looking for an affordable fancy office chair for women, you should check out used office furniture warehouses near you since so many companies are downsizing. Craigslist was another option that many people mentioned.)
The Best Office Chair With Multiple Color Options
Steelcase Gesture
All of these options come in a ton of colors, many with swatches available so you can gauge the color and quality. Steelcase tops the list at 34+ colors (to Herman Miller's 12ish).
Other Chair Company Names Mentioned (or Not) By Readers
Autonomous: One reader noted that she got the ErgoPro from Autonomous and "absolutely loved it."
Branch: One reader noted she had gotten the Branch Daily chair and really liked it.
Haworth: There were no recent mentions from readers (only one in 2011).
Humanscale: Readers mentioned the Freedom, Liberty, and Cinto chairs, but only a few times.
Knoll: not too many mentions for the chairs, but rather the desks
Other Resources: Where to Research the Best Office Chairs for Women
The subReddit for office chairs has a ton of great information, but from what I could find there wasn't a lot that was specific to women.