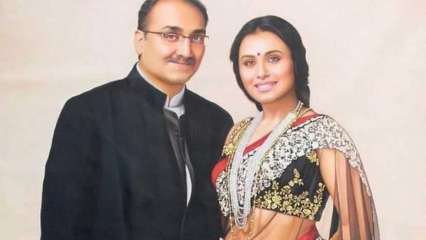 Bollywood actor Rani Mukerji is celebrating her 43rd birthday today and on her special day, it is only fair to reveal details and interesting anecdotes about her love story with her husband Aditya Chopra. Rani and Aditya are both protective of their personal life as well as their daughters' Adira Chopra. However, over time, Rani has made a few rare comments about her relationship with Aditya.
During an interview with a television channel, Rani had once revealed the reason why she fell in love with the Yash Raj Films' head. Rani had revealed that his choice to remain a private person in an industry like entertainment was one of the biggest factors that drew her towards him.
Rani had told News18, "The reason why I fell in love with my husband was because he is extremely private. For me, after being in the industry for so many years, he was one person I really respected. It is very difficult to respect people in the fraternity as you know the inside out of everything. So, Adi was one of those rare people who I really respected, who I still respect, because of his ethos, work pattern, and the way he is. Because I am private myself, it makes us a really good couple because we are very happy going nowhere." 
Rani had further added, "For Adi, I feel if he was to be like Karan Johar, I don't think I'd have fallen in love with him. Karan is everywhere, he is so social and he is the life of a party. Every day he is doing something or the other. The thing with me is that I need my family at home. I am a very family-oriented person. I would go mad if my husband was working; as it is half the time he is at the studio. Imagine, him having a social life beyond his films. Half the time, I would not get to see him. I am very happy and content that he (Aditya Chopra) is not a social person. After his work, he comes back home to me." 
As for her work, Rani was last seen on the silver screen in 'Mardaani 2'. She is all set for the release of her next film 'Bunty Aur Bali 2', starring Saif Ali Khan, Siddhant Chaturvedi, and debutant Sharvari.