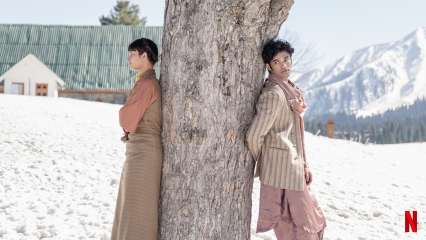 Netflix, on Saturday, revealed the first looks from the set of 'Qala' starring Triptii Dimri, the lead actor in Bulbbul who swept hearts and accolades with her performance, along with Babil I. Khan, late actor Irrfan Khan's son. The film marks Babil's debut and also stars Swastika Mukherjee. 
After the tremendous success of the visual masterpiece 'Bulbbul', this will be Netflix's second collaboration with the creative powerhouse Clean Slate Filmz (Anushka Sharma and Karnesh Ssharma's production house) and director Anvitaa Dutt. 
Talking about the film, Anvitaa Dutt (Director) said, "Mother-daughter relationships are sacred and often complicated. Qala is a beautiful, heartbreaking story about a daughter who craves her mother's love. I am ecstatic to have such incredible actors on board and cannot wait for the world to discover the film with Tripti, Babil and Swastika. It's always a pleasure to partner with Clean Slate Filmz and Netflix as they believe in bringing to life empowered stories like Bulbbul, and now Qala."
Check out the official announcement video here:
Earlier in the day, Babil Khan shared that he has wrapped up his first shooting schedule along with a picture he posted on Instagram. In the photo, he is seen posing with a friend against the backdrop of snow-covered mountains.
"I have finished my first shooting schedule," he wrote, without divulging details of the shoot then.
He added, "Damn. Also with my childhood best friend bama side. In the process, I realised that it is absolutely necessary to remember that your self-importance will drown you if you're not extremely careful and honest with yourself."
Babil then stressed that it will be the story that will be greatest.
"You are part of a story and the story will always be bigger than you. (Whether you are an actor or not). Have a great day today!" wrote Babil, who had earlier hinted about his acting debut.