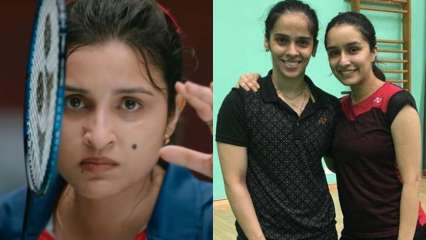 After much speculation, 'Saina' director Amole Gupte has finally opened up about Shraddha Kapoor, who was originally cast to play badminton player Saina Nehwal in a biopic, being replaced by Parineeti Chopra. 
In an interview with Bollywood Hungama, Amol said that the call to relieve Shraddha was a studio mandate, as producer Bhushan Kumar wanted a lead actor for Varun Dhawan and Nora Fatehi starrer 'Street Dancer 3D'. He said that the switch was "happy happy". 
He said, "Shraddha was in full preparation, which is why we started shooting. She practiced hard to become Saina, and was doing good work. But she got dengue, and became frail after spending a month in bed. She kept asking me if she could try and return, and we kept pushing. But one day, she admitted that she was feeling too weak." It was then that Bhushan Kumar requested Amole if she could be allowed to work on 'Street Dancer 3D' instead because he was in a 'crisis' and needed a 'heroine'.
Amole further added, "And he brought Parineeti in for me. It was all happy happy. Parineeti happy, Shraddha happy, Bhushan Kumar happy, and I am also very happy. At least the film wasn't shut down. The film is like my child, nothing should happen to the child; it just took five years to arrive. We are happy parents." 
Earlier, speaking about replacing Shraddha, Parineeti had told Pinkvilla, "Of course, she was not able to do the film due to certain date issues and she had other films that she was doing. The thing is, there was never really any problem. This was something that the media made. Ki humein bada ek doosre se kuch problem hai (that we had some big problem with each other). She is the sweetest girl ever and we both are friends." 
'Saina' is all set to release on March 26, in theatres.