A six-speed transmission with eight-clutch discs and extremely positive engagement helps bridge the power gap between DesertX and Multistrada V4 with shorter gear ratios for first and second, plus tall gearing in sixth for highway cruising. Hefty pegs and levers allow an easy heels-down, stirrup-style riding position while seated or standing. And upright handlebars and excellent ergonomics around the tank contribute to comfort and confidence during harder jockey work out of the saddle.
Ducati even rotated the brake and clutch levers, as well as the switchgear, forward and down on the bars, for easier use while standing, though the overextended wrist positioning can begin to feel a bit awkward during regular road riding. The Brembo brakes themselves also create a bit of a strange sensation, tuned as they are to provide a wide range of modulation in slippery off-road situations.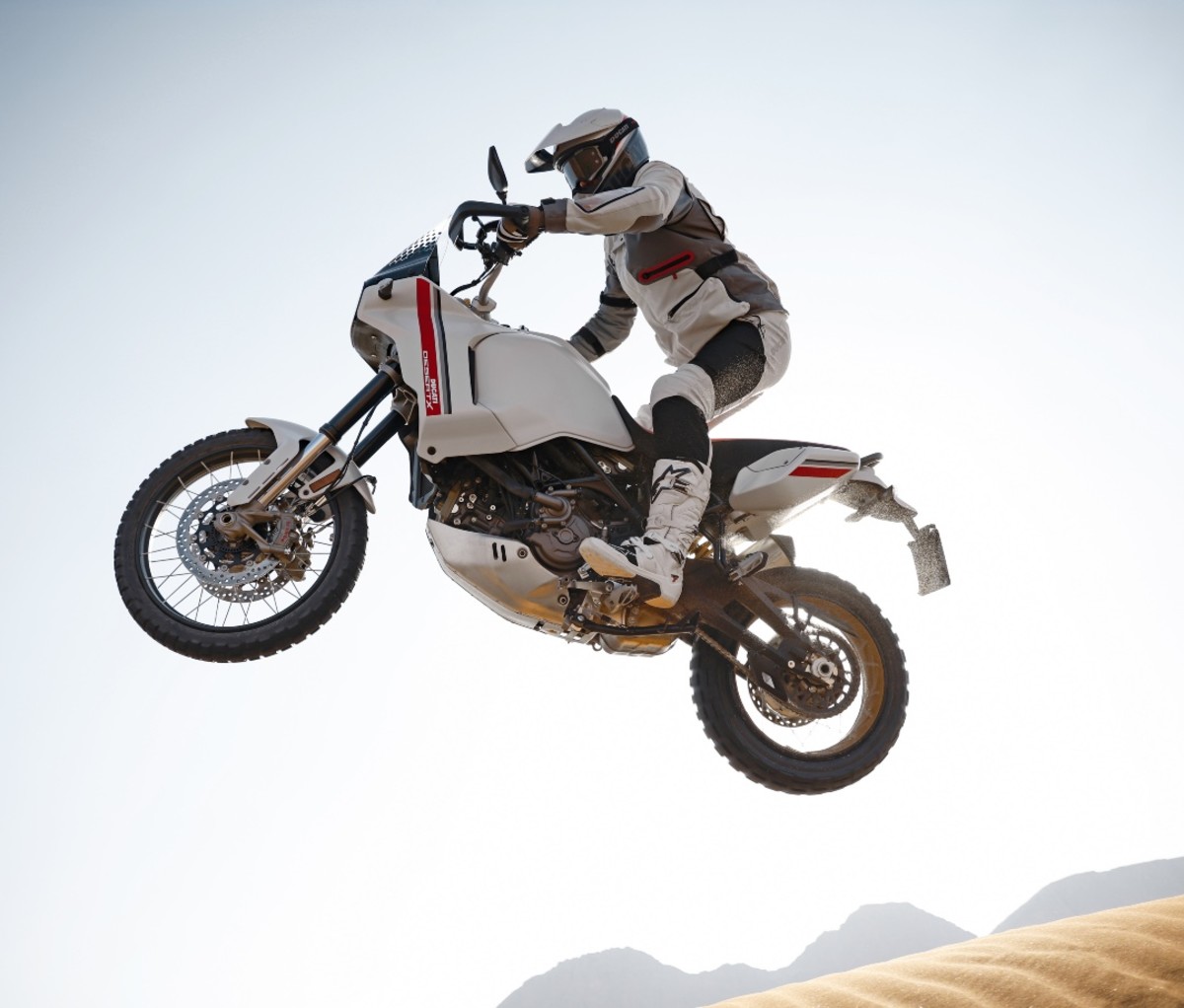 Clamping the M50 monoblock radial calipers down on dual 320-mm discs up front and a single rear 265-mm disc produces plenty of stopping power, but gently feathering in a bit of brake barely does the trick until the bite hits hard (maybe the brakes on Ducati's brand-new press loaner needed a bit more time since it only showed 50 miles on the odometer). The sensitivity (or lack thereof) only really rears up when slipping through traffic or coming to a slow stop, though—and the DesertX's relative lack of brute power never makes the brakes approach a worrisome level of hesitancy.
Without a doubt, the DesertX seems worthy of a full liter or larger engine, which may eventually enter the lineup. As is, the wizardry of a surprisingly nimble ADV bike with perfectly respectable handling during sportier riding shines through despite the larger 21-inch front wheel, long-travel suspension front and rear, and the high center of gravity. A set of 1.8-inch Kayaba forks mounted upside down (or right-side up, really) allows for 230 mm of front travel with adjustable compression, rebound, and preload. The rear damper also offers an impressive 220 mm of travel and yet, neither the nose nor tail ever approach an overly soft or spongy level of sloppiness.