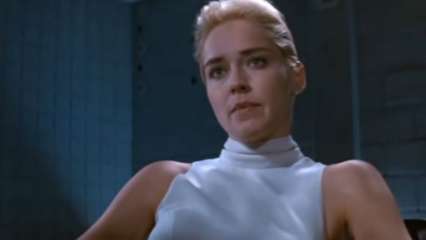 Actress Sharon Stone has made some shocking revelations in her forthcoming new memoir 'The Beauty of Loving Twice'. 
Reflecting on one of the most famous movie scenes ever, in 'Basic Instinct', the 63-year-old movie star revealed she was duped into it — and furious over it, while referring to the scene where she is shown crossing her legs with no underwear on. 
In an excerpt of her forthcoming memoir that was published by Vanity Fair on Thursday, Stone said she wasn't ready to remove her underwear for the famous scene while adding that Verhoeven assured her that her genitals would not be visible on-screen. Dishing out more details about the same, Stone said that after the movie was wrapped, she was invited to a preview screening with the entire crew, where she saw that her genital was indeed visible.
"After we shot Basic Instinct, I got called in to see it," Stone wrote, adding "Not on my own with the director, as one would anticipate, given the situation that has given us all pause, so to speak, but with a room full of agents and lawyers, most of whom had nothing to do with the project. That was how I saw my vagina-shot for the first time, long after I'd been told, 'We can't see anything – I just need you to remove your panties, as the white is reflecting the light, so we know you have panties on. Yes, there have been many points of view on this topic, but since I'm the one with the vagina in question, let me say: The other points of view are bu***hit."
"I went to the projection booth, slapped Paul across the face, left, went to my car, and called my lawyer, Marty Singer," Stone further added while mentioning that her lawyer said she could stop the film from release. 
Stone further stated that when she thought over it, she ultimately allowed the scene to be included because it was right for the character. 
"I let Paul know of the options Marty had laid out for me. Of course, he vehemently denied that I had any choices at all. I was just an actress, just a woman; what choices could I have?" she wrote.
"But I did have choices. So I thought and thought and I chose to allow this scene in the film. Why? Because it was correct for the film and for the character; and because, after all, I did it," Stone added.
In the 1992 erotic thriller, Basic Instinct, Stone essays the role of a crime novelist who becomes the prime suspect in the brutal murder of a popular musician. During the said scene, she is being interrogated by the lead detective in the film, the role of which was played by actor Michael Douglas, when she crosses and uncrosses her legs multiple times.