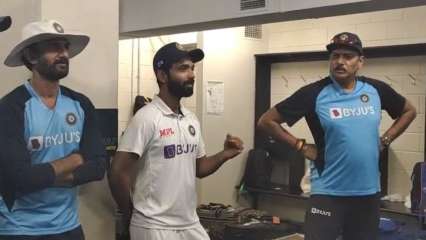 While, the focus after the series win against Australia was on debutants and newcomers, who grabbed their opportunities with both hands and performed brilliantly on the biggest stage. However, one person who floated under the radar and played a crucial role in India's resurgence after Adelaide debacle, was the stand-in skipper Ajinkya Rahane.
Rahane, in Kohli's absence, took the role of a captain, but emerged as a leader of a depleted side, who just wanted to give their best on the field, play with pride and give their everything for the badge they were playing for.
Rahane, who has now captained India in five Test matches, still has an unbeaten record as a captain as India has won four matches and has drawn one – SCG Test.
Like the head coach, Ravi Shastri, Ajinkya Rahane, also gave a heartwarming speech in the dressing room after the win. Addressing the whole team, Rahane said, "This is a massive moment for all of us. What happened in Adelaide, how we came back from Melbourne onwards was really good to see. Not one or two guys, everyone did their complete efforts, everyone contributed in all the three games, it was not about one or two individuals."
Rahane also admired spinner Kuldeep Yadav's attitude throughout the series as he did not get to play a single game in the Test series, to keep working hard and said that his time will come as now they will be playing a series at home in India.
"I just want to mention Kuldeep Yadav and Kartik Tyagi. Kuldeep, I know it was tough for you, you did not play a game here but your attitude was really good. Your time will come, just keep working hard. Kartik you were fantastic,"  he added.
After the series, the BCCI has put out many behind the scenes videos, photos giving an insight into the fressing room atmosphere after a historic victory against Australia on their home soil.