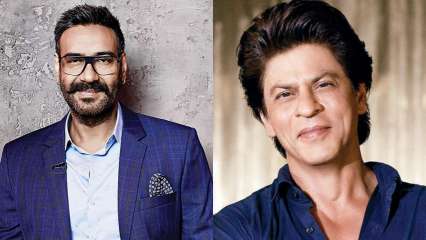 When Bollywood superstar Shah Rukh Khan makes an appearance in an advertisement, it is sure to make some noise on the internet. And when it is in a commercial that also features actor Ajay Devgn, well, the massive buzz around it is inevitable. But, this is no ordinary commercial where the two actors came today. It's an ad for a 'pan masala' brand, the one Ajay Devgn has been associated with for a long time now. But with SRk joining him, fans had all sorts of relations. 
On one hand, while many celebrated the coming together of the two stars, others flooded Twitter with hilarious memes. A section of social media users even tried to sum up Ajay's wife, Kajol's reaction considering the actress shares a great friendship with SRK and the two have starred in some of the best films together. 
Additionally, in a first of sorts, fans of both the actors united on Twitter to trend the video featuring both Khan and Devgn.
Some called it India's Avengers moment, others shared hilarious memes. 
"When all director, producer's, and whole Bollywood failed to do so,#vimal make it possible and bring them together.#SRK in #vimal ad," wrote a Twitter user. 
"Director and story failed to cast them together, but Vimal ad made it possible. The Baap of Avengers!" wrote another. 
Check out some tweets here:
After watching Vimal Advertisement @ajaydevgn & @iamsrk together , Now we can expect them in a movie. #AjaySrkTogather #VimalAd pic.twitter.com/Xn6xsaIFw7

— Ajay Devgn Fan Club™ (@WeLoveAjayDevgn) March 20, 2021
Shahrukh Khan also joins the Vimal Ad campaign*

SRK Fans :#ShahRukhKhan #Vimalad pic.twitter.com/rOAi78cCxy

— Yuvi Rathore (@iyuvirathore) March 20, 2021
WHY #SRK, WHY?  #Vimal #ShahRukhKhan #AjayDevgn #VimalAd #JubaanKesri pic.twitter.com/x2t1QcucAn

— Prateek (@CinemaWithPRD) March 20, 2021
@imsrk Ki Halat #Pathan Me bhi Cameo #VimalAd Me bhi Cameo

Cameo ki zindagi Chal Rahi hai pic.twitter.com/qKFk8H7NA4

— MuSaFiR (@itsjeetx) March 20, 2021
The two actors have previously come together in the 2005 film 'Kaal' where Karan Johar and Shah Rukh Khan had jointly produced the Bollywood movie starring Devgn in the lead role.