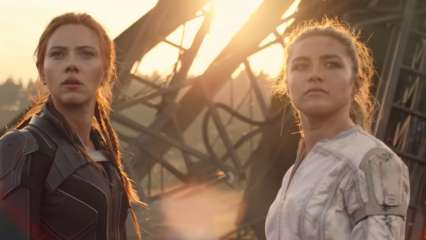 The makers of Marvel Studios' Black Widow have dropped the new trailer for the upcoming superhero film. Starring Scarlett Johansson as Natasha Romanoff and the titular role, the trailer gives a glimpse into her life before she became an Avenger and sacrificed her life to save the world. Fans also get to see her struggle to face the past and deal with unfinished business by reuniting with her family played by Florence Pugh, David Harbour and Rachel Weisz.
In the trailer of Black Widow, Natasha Romanoff played by Scarlett confronts the darker parts of her ledger when a dangerous conspiracy with ties to her past arises. Pursued by a force that will stop at nothing to bring her down, Natasha must deal with her history as a spy and the broken relationships left in her wake long before she became an Avenger.
The Avengers music throughout the trailer will give one legit goosebump and impatience for the release of the film.
Check out the trailer below:
Scarlett Johansson reprises her role as Natasha/Black Widow, Florence Pugh stars as Yelena, David Harbour portrays Alexei/The Red Guardian and Rachel Weisz as Melina.
Black Widow is the first film in Phase Four of the Marvel Cinematic Universe and is directed by Cate Shortland and produced by Kevin Feige.
Earlier during an interview, Scarlett had opened up on Black Widow by stating, "It's a film very much about self-forgiveness and accepting decisions that were made for you. It's much deeper than anything we could have done earlier."
Black Widow is slated to release on July 9, 2021.