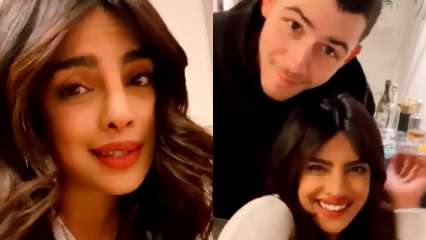 Priyanka Chopra Jonas along with her husband Nick Jonas, on Wednesday, got their fans all excited with their latest video on Twitter and Instagram reels. Priyanka and Nick shared with their fans that they will be announcing the nominations for the 93rd Academy Awards on Monday.
Priyanka and Nick took to social media to share a special video, shot at their London home, to make the reveal. Priyanka begins the video by saying, "Tell me we are announcing the Oscar nominations without telling me we are announcing Oscar nominations", a popular trend on Instagram reels and TikTok. But behind her, Nick is left unimpressed and lets her know that she has already told everyone that they are announcing the Oscar nominations. 
Check out the video here. 
Sharing the video on their respective social media handles, Priyanka wrote, "Hey @TheAcademy, any chance I can announce the Oscar nominations solo? Just kidding, love you @nickjonas! We are so excited to be announcing the #OscarNoms on Monday, March 15th at 5:19 AM PDT! Watch it live on @TheAcademy's Twitter!"
The Academy Awards are taking place at a later date than usual in 2021 amid the ongoing coronavirus pandemic. The ceremony that is usually scheduled for early February, will be held this year on April 26. A representative from the Academy of Motion Arts and Sciences (AMPAS) and channel ABC had told Variety in December, "The Oscars in-person telecast will happen."
Priyanka Chopra's latest outing 'The White Tiger' is expected to score a couple of nominations as well. On Tuesday, the film earned two BAFTA nods for Best Screenplay and Best Actor (Male) for Adarsh Gourav. Priyanka is one of the executive producers of the film as well.
Priyanka couldn't stop herself from expressing how proud and excited she was. She wrote on Instagram, "What a proud moment for Indian talent with 2 BAFTA nominations for an ALL INDIAN STAR CAST!! Ecstatic for you @gouravadarsh, you are so deserving of this recognition, and congratulations #RaminBahrani, so well deserved. I feel extremely proud to have been an executive producer on this movie! Let's get it!! (sic)."