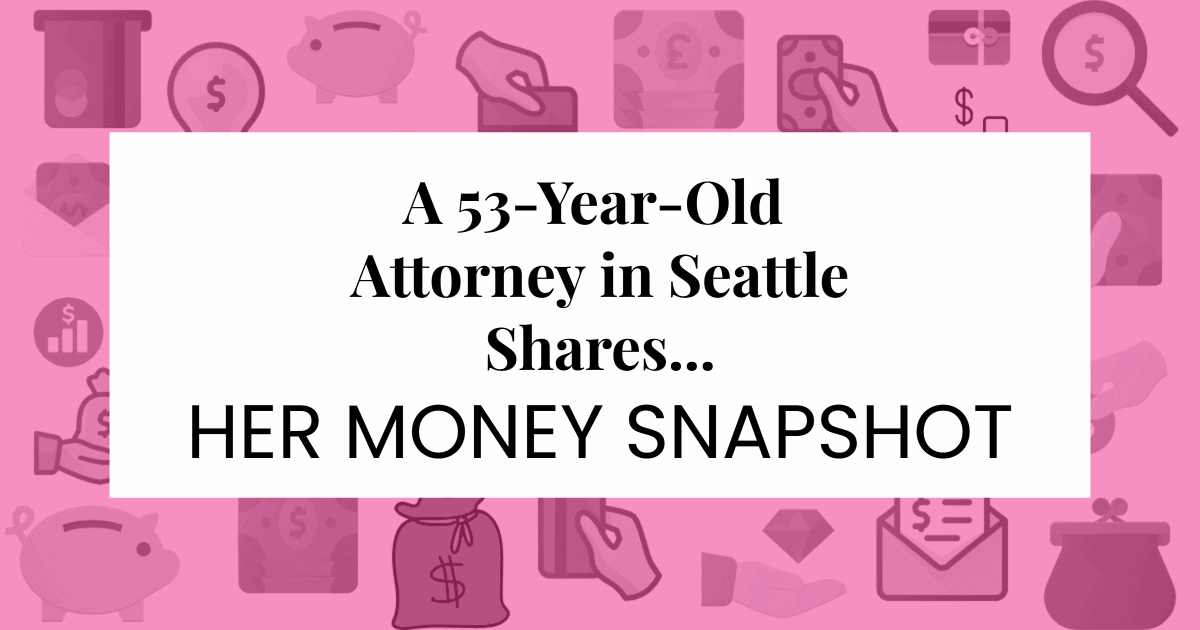 For today's Money Snapshot, we're talking salary, net worth, debt, and more with reader KJ in Seattle, who works as an attorney in a small/medium firm. She noted, "We have always been conscious of keeping expenditures/lifestyle below income, even when there wasn't a lot. We made the decision before kids that my husband would be the stay-at-home parent and it has worked out exceptionally well."
We got a few requests from readers to launch our own "money diary" series, so we've asked willing readers to fill out a form with lots of details about debt, spending, saving, and more! If you'd like to fill out the form and be considered for a future personal money snapshot, please click here to submit your response! You can see a PDF of the questions if you want to review them ahead of time. See others in the Personal Money Snapshot series here.
Please remember that this is is a real person who has feelings and isn't gaining anything from this, unlike your usual friendly (soul-deadened, thick-skinned, cold-hearted, money-grubbing) blogger — so please be kind with any comments. Thank you! — Kat
Name: KJ
Location: Seattle
Age: 53
Occupation: Attorney at a small/medium firm
Income: $500,000
Family: Spouse, stay-at-home parent, 60 years old; two girls: 15 and 18 (eldest in college; pay expenses from 529 savings)
Net worth: ~$3.5 million
Net worth when started working: Age 30, -$90K from law school loans
Living situation: Own home; $1,800/mo. mortgage
Debt
What does your debt picture look like?
Two mortgages: residence, $1,500/mo. ($75,000 remaining bal.) and rental, $1,400/mo. ($39,000 remaining).
How much money are you spending each month to pay down debt?
$2,900/mo. mortgages (primary and rental homes)
How did you pay for school?
Undergrad: community college and then transferred to university. Paid both 100% self-paid. Lived in shared housing for many years, worked full-time, took quarter off here and there to save money. For law school, continued shared housing and took loans. Continued to live on minimal income after becoming lawyer and used any bonuses to pay off debt.
Home debt: Share your theories and strategies with us (including any that lead you to rent rather than own). 
My husband and I both owned homes when we were married. We turned the smaller one (mine) into a rental and never refinanced any of our mortgages. The other home was remodeled before we moved in (with kids by then) but continued renting while the remodel was done so that we had cash flow, but it took years rather than months. The home next door came available, and our neighbor initially financed us so that we could purchase a rental home (and limit construction next door), which is now paid off.
Have you paid off any major debt? 
Paid $90,000 in law school debt in four years with transferring all extra money to debt payments.
Recently paid off second rental home with extra payments. Always purchase cars, vacations, large ticket items in cash by saving first.
Have you ever done anything noteworthy to avoid or lessen debt?
Always lived within means.
Savings, Investments & Retirement 
How much do you save each month or year in retirement vehicles like 401Ks, Roth IRAs, and others?
Max to $22,000/year plus the $5,000 catch up ($27,000 total)
How much money do you allocate to other tax-savvy investments/accounts like HSAs, 529s, FSAs, and others?
$2,000/mo. in 529s. Do not qualify for HSA because of partnership status.
When our eldest daughter was in high school, she had an after-school job. IRS rules allow 100% of minor's income to be invested up to the $6,000 annual max., allowing her retirement income to start in a tax-free Roth at age 16. She has had investment input and it is an active discussion that she's involved in. Also purchased OID bonds when children were little and roll over at maturity.
How much do you save outside of retirement accounts?
$1,800 mo. into annuity; avg. $50,000–$100,000 year in savings.
Talk to us about investments. Do you have a financial adviser or planner?
Combination of stocks, bonds (municipal and state), cash, mutual funds. No financial advisor.
Do you have an end goal for saving or are you just saving for a rainy day?
Rainy day. Starting to think about retirement, however, and have always maxed out IRA contributions.
What's the #1 thing you're doing to save money, limit spending, or live frugally?
Always ensure that expenses remain well below income. Reduce vacations, eating out, clothing purchases when other expenses increase.
When did you start saving seriously? How has your savings strategy changed over the years?
As soon as 401K became available and student loans paid.
Have you ever made a big money move or investment with savings in mind, such as rolling over an older IRA into a Roth IRA or superfunding a 529?
In law school, when I had no other income, I rolled a traditional IRA into a Roth to limit taxability. It started as a $5,000 IRA but is now worth over $600,000.
Do you have an estate plan in place? A trust? 
Will and estate plan both. We have assets going into trust for minor child. It was very straightforward.
How much do you have in cash that's available today?
$375,000
How much do you have in cash that's available in a week? 
$600,000
How much is in your "emergency fund," and did you include it in the previous question?
$600,000, in brokerage account (cash and stock total); yes, included above.
How much do you have in retirement savings?
$2.3M self; spouse no retirement
How much do you have in long-term investments and savings (CDs, index funds, stocks) that are not behind a retirement wall?
~$160,000 in a variety of municipal, state and international bonds
If property values (home, car) are included in your net worth, how much are those worth?
Three homes: $2.5M total value. Car: Tesla, $50,000
Spending 
How much do you spend on the following categories on a monthly basis?
Groceries: $1,500
Restaurants, bars, takeout, and delivery: $1,500
Clothing and accessories: $1,250
Transportation: $50/mo. gas only; $300/mo. avg. licensing and insurance
Rent/living expenses: $1,800
Kid-related expenses: Daycare and other childcare, babysitters, school tuition, clubs/sports, etc.
Entertainment: $500
Other major expenses: vacations: $1,000/mo.; classes $2,000/mo.
Health care – premiums and other costs: $2,000/mo. for family of 4; <$500/year outside of premiums
What's your spending range for these things? What's your average?
Vacations – Range: $5,000–$25,000 (most expensive included taking sibling's family to Disneyland)
Vacations – Average: $10,000
Charity – Range of donations: $15,000–$20,000 in planned giving; maybe $1,000 in ad hoc contributions
Charity – Average donation or giving amount: Multiple charities, low of $1,500/yr. to $10,000/yr. for highest level of giving in monthly payments
Individual items of clothing – Range: $2,000–$5,000 (designer clothes for office)
Individual items of clothing – Average: Shoes, $500–$1,000 3x/yr.; suit, $3,000 1x yr.; misc. tops/bottoms $7,000/yr.
Apartment or house – Range: for rent, $250/mo. (shared housing in college) to $1,800/mo. in current residence
Apartment or house – Current main residence: $1,800/mo.
Car or Other Vehicle – Range: $500 (first car) to $75,000 for current car
Car or Other Vehicle – Last purchase / current main vehicle: $75,000 Tesla model S
Any other large personal expenses?
Life insurance annuity, $1,800; $2,000/mo. total to 529s for younger daughter/nieces; cosmetics $2,000–$3,000/yr.
Fill in the blank on this question: I could save _____ if I stopped ______, but I don't because _______.
I could save $10,000/yr. if I stopped buying designer clothes/shoes, but I don't because I've been able to max my 401k and save money with these purchases.
If you're married: When was your wedding, how much did it cost (total), and how much did YOU pay?
2000, $200
Wedding: Tell us about it!
We were married by a judge over the lunch hour, then spent the night in a hotel. My mother took us to lunch.
If you own, how much did your home (permanent residence) cost?
$250,000 (1998)
If you have vacation homes, timeshares, or income properties, how much did those cost? (If you have income properties, please tell us more!)
1=$175,000 (2000) and #2=$285,000 (2007)
Have any large medical expenses (including nursing homes) for yourself or others played a role in your financial picture?
We are contributing to an annuity that will pay these expenses.
Are there any other large expenses in your life, now or previously?
College expenses $50,000/yr. (plus), however, they are paid by savings in 529.
How has your family provided financial support in your adult life, if any? (Or, do you provide support to them?)
My family has never had the ability to provide financial assistance. I've provided financial assistance to a sibling to put him through nursing school. My husband's parents paid for all of his undergraduate degree at a private university.
Does your family provide any non-financial support? 
My mother provided some alternate care when the kids were little. She now lives approx. five hours away.
Money Strategy 
Do you have a general money strategy?
We have always been conscious of keeping expenditures/lifestyle below income, even when there wasn't a lot. We made the decision before kids that my husband would be the stay-at-home parent and it has worked out exceptionally well. Our girls have been raised with complete gender reversal. I went from associate to partner. My husband does all shopping, cooking, laundry, cleaning, errands, etc. He was the primary contact at school, did all of the transportation for activities, doctor's appointments, etc. It left time for me to be with the kids when I came home from work. Not saying that his level of clean is same as mine, but we have a cleaner 2x/mo. and he truly makes things equal.
Time vs. money — do you spend money to save time (e.g., cleaning service)? Do you donate your time instead of money? What else does this phrase mean to you?
For sure! Cleaner comes in 2x/mo.; yard service 3x/yr. (husband does routine).
What advice would you give your younger self about personal finance?
If you are careful about student loans, it's OK to borrow. I could have completed undergrad at least 4–5 years earlier if I had not paid all in full. I ended up losing a lot of work years by delaying law school until age 30 (finished law school in 2.5 years; passed the bar at age 33).
Icons via Stencil.