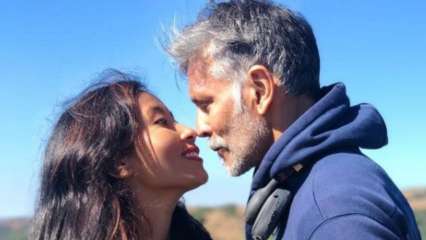 Model-actor Milind Soman and his wife Ankita Konwar feature in a new vegan fashion lookbook, showcasing eight stylish outfits created without fur, leather, wool, exotic skins, cashmere, mohair, or silk. The lookbook will be unveiled at the ongoing FDCI x Lakme Fashion Week.
In the meantime, the actor took to his Instagram handle on Friday to share a rather passionate photo with his wife Ankita whilst promoting PETA India's vegan fashion lookbook.
The couple shared an intimate moment as they locked lips in the latest Instagram post shared by the marathon runner. 
Milind Soman took to Instagram and wrote, Vegan fashion – part 2 Passion for fashion !!! Additionally, the image also had a note which read, "Think of it as PDA for animals."
Soon after the photo hit the photo-sharing platform, fans and followers left heart and fire images as the couple went all out with their PDA.
Take a look at the picture here:
On Thursday, Milind has shared a series of photos and videos from their Vegan fashion campaign. "Vegan fashion! No leather, no silk, no wool. No pain caused to animals just to satisfy human vanity. If you care, this is the alternative. If you hope for a more sustainable, less cruel world, then at least sometimes, if not always, make this choice. Think, before you buy. Personally, I have cut down non vegetarian food to a minimum. I find that this choice is also healthier for me. Next, clothes. Check out our new vegan fashion campaign for @petaindia which debuted at FDCI x Lakmé Fashion Week.," Milind wrote alongside it.
Earlier, while talking to IANS, Milind had said, "Every time we wear vegan, we are choosing to be kind. I've teamed up with my friends at PETA India to showcase at FDCI x Lakme Fashion Week some of the many luxurious vegan, eco-friendly materials available these days," Milind said.
Ankita added, "PETA India's vegan fashion lookbook is about showing how easy it is to look killer without killing animals."
Vegan fashion from labels such as Proyog, Daisy Days, Urvashi Kaur, Papa Don't Preach by Shubhika, The Frou Frou Studio, Azga, Equiivalence, Kunal Anil Tanna, Ethik, Mati, Strey, No Nasties, A Big Indian Story, Paaduks, Countrymade, Jenjum Gadi, and Outhouse highlight date night, office wear, leisure life, and athleisure looks.