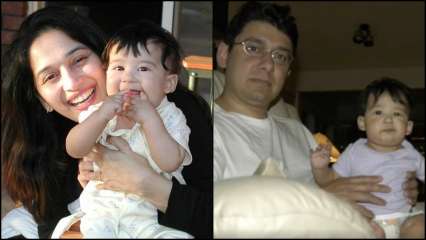 Madhuri Dixit and Shriram Nene's firstborn Arin Nene has turned 18 on March 17 this year. The couple took to their Instagram pages and posted a series of cute photos to wish their elder son on his birthday. Madhuri posted a photo when she became a new mom posing with Arin, while in another photo clicked recently, she is having a cute banter with him. With the photos, the actor penned a note to him on becoming an adult.
Madhuri wrote, "My baby is officially an adult. Happy 18th birthday, Arin. Just remember that with freedom comes responsibilities. From today the world is yours to enjoy, protect and brighten. Make good on all the opportunities that come your way and live life to the fullest. Hope your journey is an unforgettable adventure. Love you!"
Check it out below:
Meanwhile, Shriram posted a video with photos and videos of Arin from being a baby until now. Dr Nene wrote, "Arin's 18th Birthday! Wanted to wish Arin, my mini-me, a very happy 18th birthday and many happy returns of the day. Have watched you grow and develop into the handsome and talented young man that you are today. Am amazed at how you care about everyone and everything and show grace in all things. We see a bright future for you, as you venture into the world as an adult, and add much to all of our lives, together. With much love, Dad."
Madhuri and Shriram's second child is also a boy named Ryan.