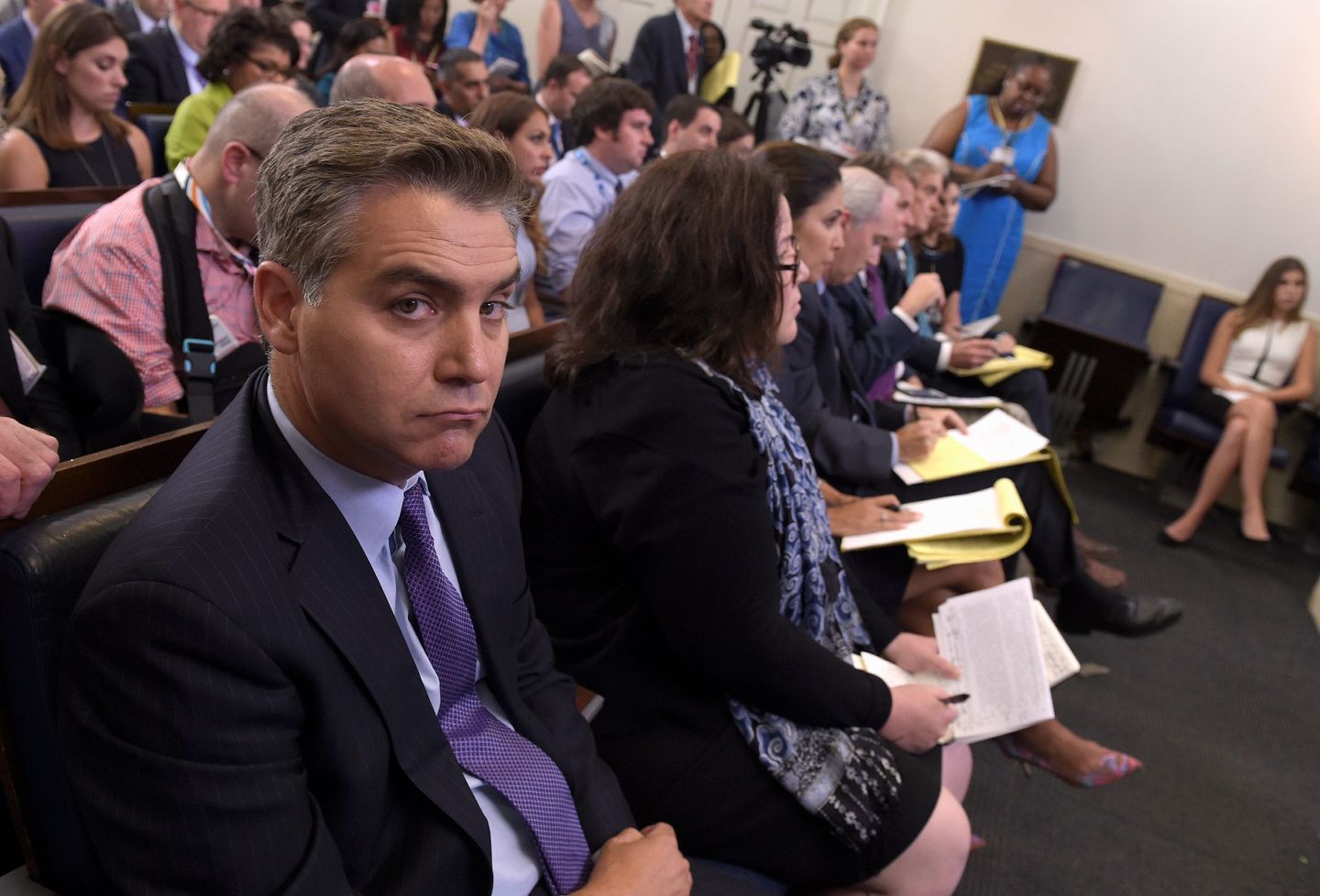 CNN chief domestic correspondent Jim Acosta faced mockery from conservatives Monday night after he tweeted a photo of himself getting vaccinated for COVID-19 while wearing a "commemorative" 2020 T-shirt that many deemed vain.
"Just the shot in the arm I needed," Mr. Acosta tweeted to his 2.2. million followers. "The latest studies show the Covid-19 vaccines are highly effective. Please do your part to end this pandemic. Get your shot!"
Mr. Acosta included a photo of himself getting a shot in his arm while wearing a T-shirt listing all the topics he covered last year while Donald Trump was still president.
The navy blue shirt read, "In 2020, I covered the impeachment trial & a caucus night (that lasted a week) & the primaries & the covid pandemic & the economic crash & the racial justice protests & Lafayette Square & so many rallies & the death of RBG & the president's 1AM coronavirus diagnosis & a Supreme Court confirmation & an election night (that lasted a week) & firings by tweet & the recounts & the presidential transition & I have a commemorative shirt to prove it."
The shirt, designed by RAYGUN, is being sold by the White House Correspondents' Association for $25.
Mr. Acosta, CNN's former chief White House correspondent, repeatedly made headlines for his confrontations with Mr. Trump and even wrote a book about his contentious relationship with the then-president, titled, "The Enemy of the People: A Dangerous Time to Tell the Truth in America." 
His critics Monday said the shirt was on-brand for the CNN personality.
This is the most Jim Acosta thing Jim Acosta has ever done, even more Jim Acosta than Jim Acosta making his Twitter header a picture of Jim Acosta pointing at Jim Acosta's Twitter avatar of Jim Acosta https://t.co/9VvwdD7aIV


— Stephen L. Miller (@redsteeze) March 30, 2021
If you zoom in closely, it says: "I tried super hard to journalism but all I got was this lousy T-Shirt."


— Jenna Ellis (@JennaEllisEsq) March 30, 2021
Jim Acosta got a shirt to commemorate himself. Epic levels of narcissism. https://t.co/xTbByLoubV


— Sara Gonzales (@SaraGonzalesTX) March 30, 2021
Ladies, find you a man who loves you like Jim Acosta loves Jim Acosta https://t.co/zI8o6XHf1C


— Ben Shapiro (@benshapiro) March 30, 2021
Someone should probably inform Jim that he's contributing to vaccine refusal rates by continuing to make everything an obnoxious self-flattering spectacle https://t.co/xkRBTByzRk


— Michael Tracey (@mtracey) March 30, 2021
I have a friend who did much more than you by forming a sewing group that made thousands of masks for health care workers. And she didn't even make a t-shirt about her 2020 accomplishments.


— Kimberly Ross (@SouthernKeeks) March 30, 2021