A government review into buffer zones outside abortion clinics underplayed and misrepresented the impact of activists on staff and patients, a number of medical bodies and charities have claimed in a renewed call for better protections for women in vulnerable situations.
The creation of protest-free areas outside abortion service providers was reviewed by Sajid Javid last year – with the former home secretary and current chancellor concluding the move "would not be a proportionate response".
While the review received evidence of harassment including the handing out of model foetuses, the blocking of patients and the display of graphic images outside clinics, Mr Javid said such activities were not "the norm".
Now groups brought together by the British Pregnancy Advisory Service (BPAS) have now claimed the consultation was "flawed" and that evidence showing the strain placed on workers and clinic users was "suppressed".

Northern Ireland abortion protest in Westminster
Show all 7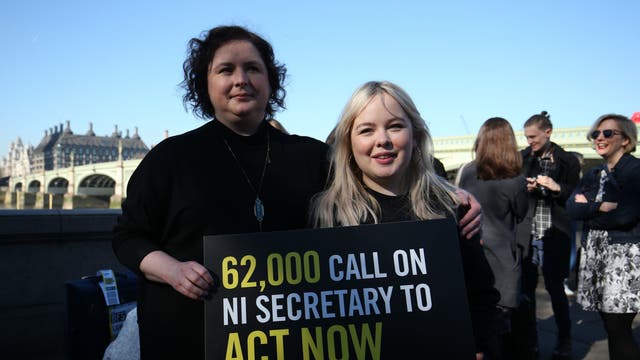 Backed up by documents obtained under Freedom of information laws, the letter to Priti Patel, the current home secretary, claims that the consultation was a "foregone conclusion" – and that the report that resulted in the minister's decision "underplays and misrepresents" the experiences of clinic staff and women even though a database of testimony from 1,300 people was received.
The experience of staff is not "mentioned at all" in the report and there is a lack of "critical evaluation" of evidence from protesters, the group claims.
The letter, signed by 30 organisations and individuals, said: "Based on these shortcomings in the evidence provided to the minister, we would like to invite you as the new Home Secretary to ask for a full review of the evidence provided and to look again at the possibility of introducing national buffer zones to put a stop to protests at the clinic gate.
"Ultimately, this is not a question about abortion, but about the ability of women to access legal and essential medical care without fear of harassment or intimidation."
The review received more than 2,500 responses from abortion service providers, abortion service clients, anti-abortion demonstrators, police forces and local authorities.
Some 36 hospitals and clinics in England and Wales reported demonstrations outside their facilities. Of these, a small number reported aggressive activity, the Home Office said.
Last year the Court of Appeal rejected a challenge against the first anti-abortion protest-free zone in the UK.
Three leading judges dismissed an appeal against an earlier ruling that restrictions imposed by Ealing Council in west London on protests outside a Marie Stopes clinic were "justified".
The authority was the first to create a buffer zone in April 2018 following demonstrations.