‌
Our daily workwear reports suggest one piece of work-appropriate attire in a range of prices.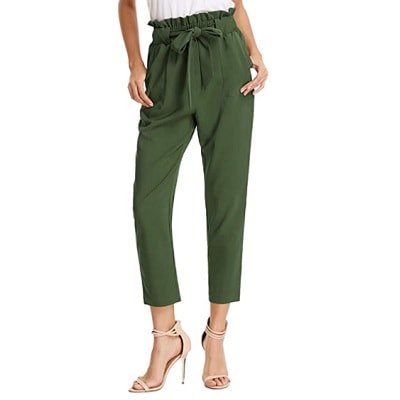 These‌ ‌cropped‌ ‌pants‌ ‌were‌ ‌a‌ ‌top‌ ‌seller‌ ‌on‌ ‌Prime‌ ‌Day‌ ‌earlier‌ ‌this‌ ‌week,‌ ‌but‌ ‌even‌ ‌at‌ ‌full‌ ‌price,‌ ‌they're‌ ‌very‌ ‌
reasonable.‌ ‌If‌ ‌the‌ ‌paper‌ ‌bag‌ ‌waist‌ ‌trend‌ ‌is‌ ‌something‌ ‌you‌ ‌want‌ ‌to‌ ‌try‌ ‌out‌ ‌without‌ ‌making‌ ‌too‌ ‌much‌ ‌of‌ ‌an‌ ‌
investment,‌ ‌these‌ ‌pants‌ ‌would‌ ‌be‌ ‌a‌ ‌great‌ ‌option.‌ ‌
They‌ ‌come‌ ‌in‌ ‌a‌ ‌HUGE‌ ‌range‌ ‌of‌ ‌colors‌ ‌(at‌ ‌least‌ ‌25‌ ‌listed‌ ‌here),‌ ‌but‌ ‌this‌ ‌olive‌ ‌green‌ ‌color‌ ‌is‌ ‌really‌ ‌speaking‌ ‌to‌ ‌me.‌ ‌Olive‌ is ‌a‌ ‌great‌ ‌neutral,‌ ‌pairing‌ ‌well‌ ‌with‌ ‌black,‌ ‌white,‌ ‌gray,‌ ‌navy,‌ ‌tan,‌ ‌or‌ ‌even‌ ‌a‌ ‌dark‌ ‌purple.‌ ‌ ‌
‌ ‌
The‌ ‌pants‌ ‌are‌ ‌$19.99–$45.99 ‌at‌ ‌Amazon‌ ‌and‌ ‌come‌ ‌in‌ ‌sizes‌ ‌XS–3XL.‌ ‌‌ ‌
This post contains affiliate links and Corporette® may earn commissions for purchases made through links in this post. For more details see here. Thank you so much for your support!
Seen a great piece you'd like to recommend? Please e-mail [email protected]
Workwear Sales as of 6.25.21…