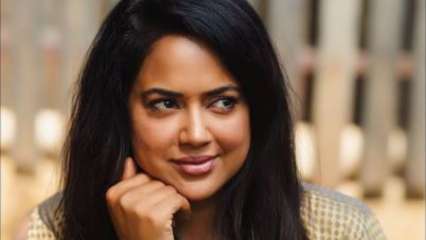 On Thursday, actress Sameera Reddy took to her verified Instagram account to post a video comprising throwback then and now pictures. The "then" pictures were from photoshoots, while the "new" ones were clicked after she became a mother.
In the old pictures, the actress is all dolled-up as a model, while in the latest pictures, Sameera is seen in a more natural look. She has no make-up on and is seen flashing a beautiful smile along with her natural grey hair and acne-prone skin. 
One of the pictures also features her kids, Hans and Nyra.
In her caption, Sameera spoke of how her life has changed for good over the years. Talking about the transformation, she wrote, "From padded bras, coloured contact lenses, airbrushed, enhanced perfect pictures…to today's pure freedom to be myself. No judgement…no pressure…Just me…#transformation #redefined #messymama #imperfectlyperfect #throwback #keepingitreal."
Soon after Sameera posted the clip on Instagram, her mother-in-law Manjri Varde took to the comments section to share her opinion of Sameera's post. She wrote, "The then of the then is superlative but the now of the now has two cherries on the cake. So maybe I'm loving the cherries."
Besides Varde, social media users too praised Sameera for loving her self and being an inspiration to women and encouraging them to accept their bodies and be comfortable in their own skin.
"Awww. How real are u i have never seen anyone accepting Reality like thisss anyways thanks to hans n nyra to make u beautiful like thisss," wrote a user.
"You are inspiration… made me understand that to love and cherish what you see in the mirror, not to be the one which others eyes want to see… i was frustrated that much that I stopped going out on any get-together so that maybe some calls me'fat' and I wouldn't be able to take it… but YOU yes you inspired to be a queen of your own life -live life queen size…. thank you so much ma'am," wrote another.
Sameera Reddy married Akshai Varde in 2014. The couple welcomed Hans and Nyra in 2015 and 2019, respectively.