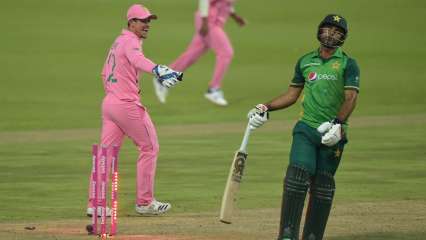 South African wicket-keeper batsman Quinton de Kock pulled off a huge deception act in the second ODI against Pakistan, which proved to be the game-changer as the act resulted in the wicket of a batsman batting on 193. Fakhar Zaman was on the verge of scripting a miraculous chase for his side despite wickets falling all around him, but a cunning instance from the opposition wicket-keeper and all went downhill from there.
The incident happened on the first ball of the last over. Pakistan were all but out of the game as they required 31 runs to win in six balls, however, Fakhar had a chance to complete his double century, his second in the one-day internationals, but it couldn't be fulfilled.
He hit towards the covers and he started coming back for the second but he had a little stutter and the ball hit straight onto the stumps. But replays showed that de Kock fooled him there. He pointed as though the throw was going to the bowler's end which made Zaman stutter and look back, but the fielder, Aiden Markram had gone to the striker's end and de Kock just let it hit the stumps, catching Zaman unawares.
De Kock Pro Version Of Sanga.

Well Played Fakhar Zaman. pic.twitter.com/CwPOIpalRI

— Ravi Mishra (@G33kBoyRavi) April 4, 2021
Both the captains Babar Azam and Temba Bavuma said after the game that it was the greatest ODI innings they saw but despite Fakhar Zaman's heroics, Pakistan ultimately fell short by 17 runs off the target and South Africa won the second game by 17 runs levelling the series 1-1.
While many suggested that de Kock might be reprimanded for fake fielding, many appreciated the deception act by the wicket-keeper batsman. Some of the users were reminded of the former Sri Lankan wicket-keeper batsman Kumar Sangakkara's similar act a few years ago against Pakistan where he fooled the batsman Ahmed Shahzad into running quickly to complete the second run.
Quinton de Kock did not pull off the coolest moment by a wicket-keeper on a cricket field.

That distinction still belongs to Kumar Sangakkara

GOAT cool act.pic.twitter.com/zrI39xS9XP

— Rohit Sankar (@imRohit_SN) April 4, 2021
Here are some of the reactions:
Naughty act from Quinton de Kock. #PAKvSA

— sohail imran (@sohailimrangeo) April 4, 2021
That was brilliant by Quinton De Kock, acting career post cricket?

— Sushant Mehta (@SushantNMehta) April 4, 2021
That was some next level stuff from Quinton de kock. Almost saw a mini Kumar Sangakkara inside him.

— Heisenberg (@internetumpire) April 4, 2021
Quinton de Kock for MoM. #SAvPAK

— Manya (@CSKian716) April 4, 2021
Quinton de Kock totally fooled Fakhar Zaman there. LOL!!!

— Deepu Narayanan (@deeputalks) April 4, 2021
De Kock pointing ball is coming into the bowlers end and fooling Fakhar Zaman. That's not fair. @ICC should take action against South Africa.#PakvRSA #FakharZaman #Pakistan pic.twitter.com/Gov8OOLFU2

— Asif AashiQ (@asif03606416) April 4, 2021
The smile deceivers have on their faces is so evil. Karma will take good care of Quinton de Kock. The #FakharZaman's batting today would be written in golden words in history! pic.twitter.com/NWDSC5wiLA

— Wajahat Kazmi (@KazmiWajahat) April 4, 2021
Deception QDK Level.

But is it within the laws of spirit of the game @ICC ? #fakharzaman

— Anand Datla (@SportaSmile) April 4, 2021
Quinton de Kock was cheeky with that Fakhar Zaman run out. But it is interesting that the umps didn't see it as a fake fielding. It will be an interesting debate.

— Mazher Arshad (@MazherArshad) April 4, 2021