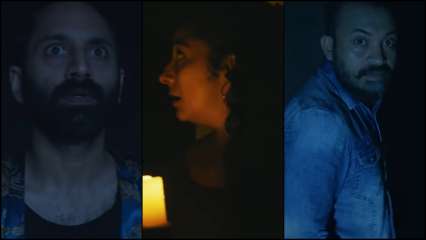 Fahadh Faasil has made his way to Netflix and the trailer of his upcoming film has been dropped. The actor-producer will be starring in a thriller film titled Irul alongside Soubin Shahir and Darshana Rajendran. The film marks Fahadh's second OTT outing after CU Soon which streamed on Amazon Prime Video in 2020. Irul is of the whodunit genre and is roughly translated as 'dark' in English.
While describing the premise of Irul, Netflix India described it as "A dark rainy night, an empty house, a stranded couple and an unknown man. A sleek game of the cat and the mouse starts playing on, as the three of them find a dead body in the basement. The movie takes the shape of an old-fashioned whodunit the kind with mystery, suspense and a house that feels like a mousetrap. Leaving us questioning, who is the killer?"
Check out the trailer below:
Irul is directed by Naseef Yusuf Izuddin and produced by Anto Joseph.
Earlier during an interaction with The Times of India, when Naseef was asked about directing Fahadh and Soubin in the film, the debutant had said, "It was amazing. Once they caught the character, my job became easy. I just had to tell them the scene and dialogues, and they took over. Fahadh and Soubin, having worked together for so many years, are in sync. Me being a first-time filmmaker, it was a great learning experience on how they work."
Irul is set to stream on Netflix from April 2, 2021.