Author Taslima Nasreen on Tuesday sparked controversy with her tweet on England cricketer Moeen Ali, reportedly after the cricketer refused to sport the alcohol brand name on his jersey of Chennai Super Kings for the upcoming season of the Indian Premier League (IPL). Later, England cricketers, Jofra Archer, Sam Billings, Saqib Mahmood, Ben Duckett came out in support of the all-rounder and lashed out at Nasreen for a distasteful comment.
Nasreen had written, "If Moeen Ali were stuck not with cricket, he would have gone to Syria to join ISIS."
The tweet sparked massive controversy as most of the people asked their followers and fellow users to report the tweet and account. Among those were England cricketers, who came out in support of their teammate. Nasreen later, in another tweet said that it was a sarcastic sense, which received further criticism, as fast bowler Saqib Mahmood said that if it was sarcastic then she has a sick sense of humour.
Here are the tweets in support of Moeen from his teammates: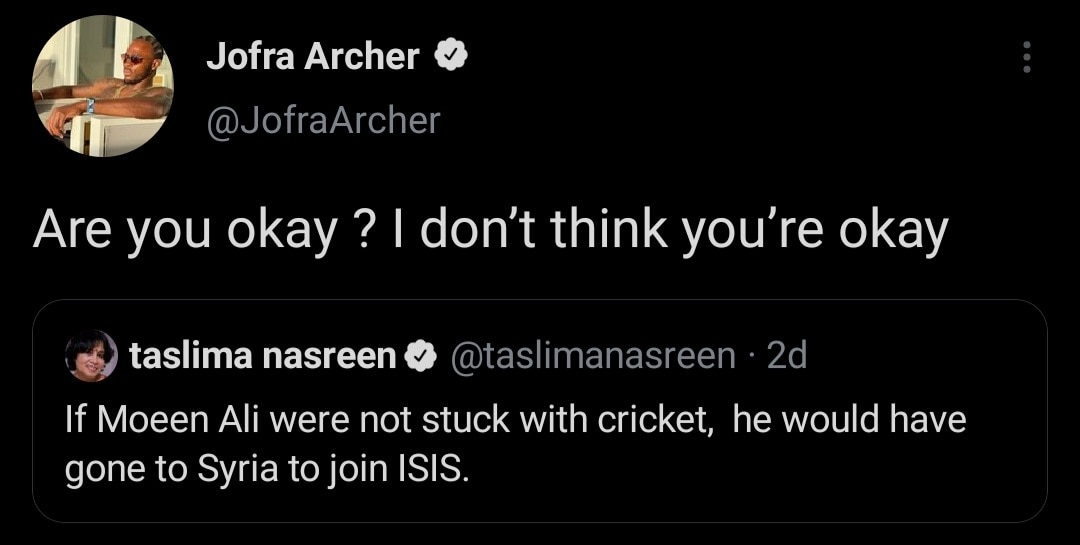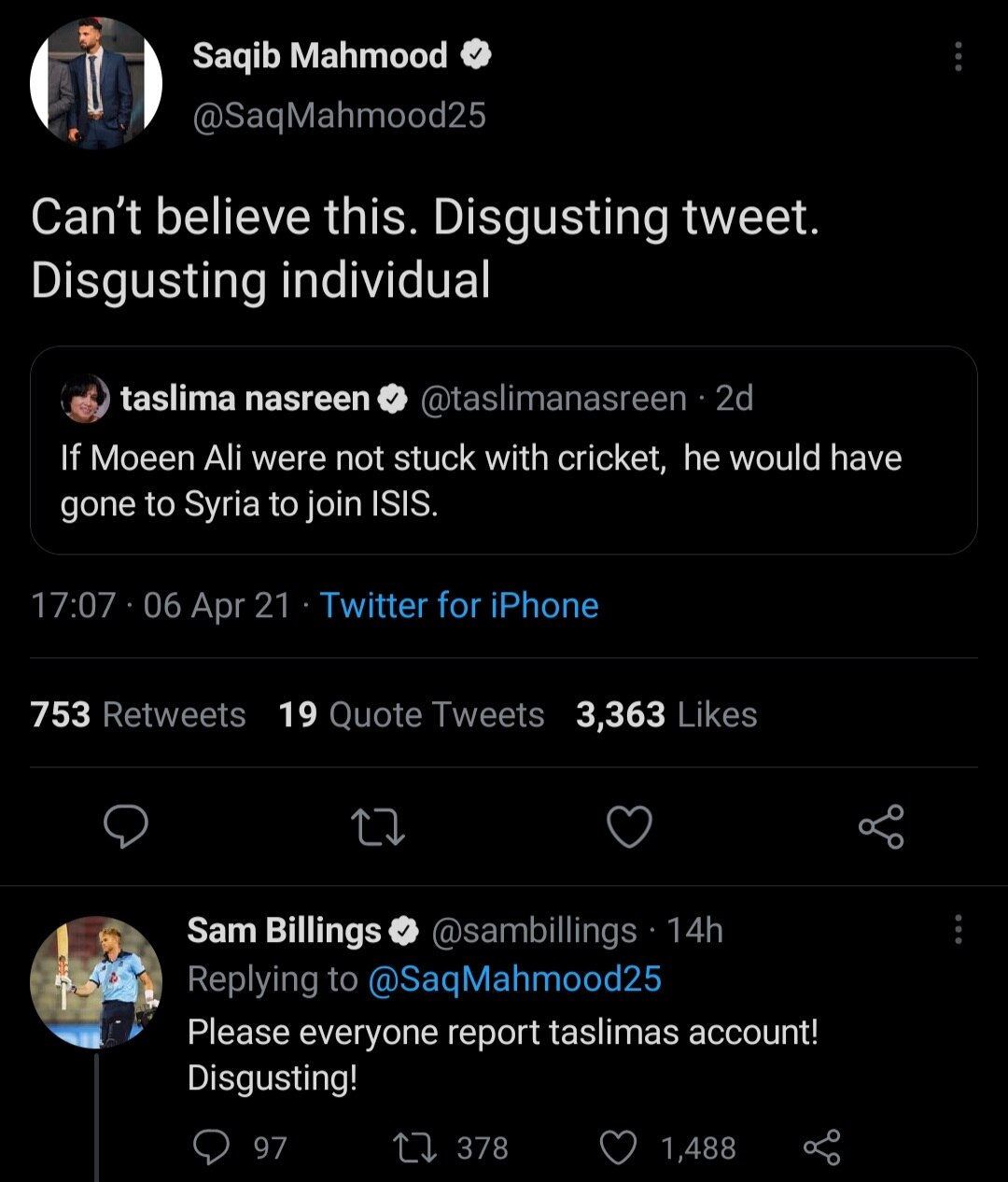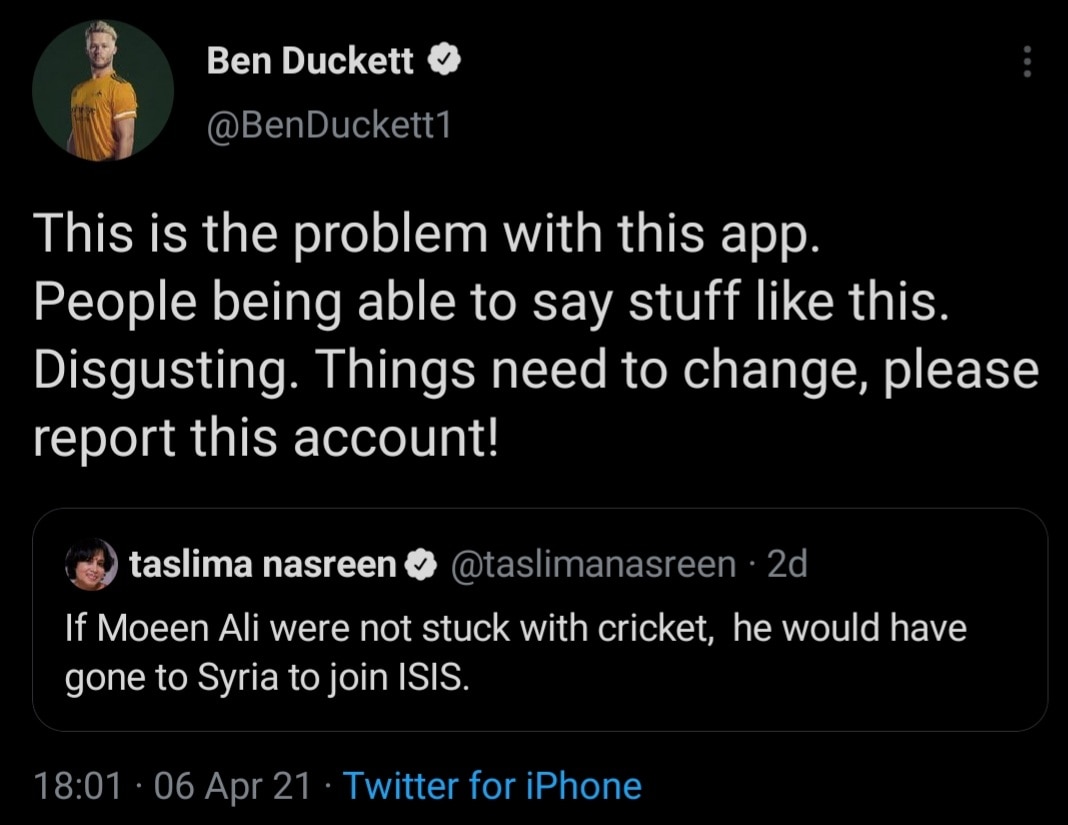 While Nasreen after a severe backlash deleted the tweet.
Sarcastic? You have a sick sense of humour https://t.co/u4KnIB1I7w

— Saqib Mahmood (@SaqMahmood25) April 6, 2021
Sarcastic ? No one is laughing , not even yourself , the least you can do is delete the tweet https://t.co/Dl7lWdvSd4

— Jofra Archer (@JofraArcher) April 6, 2021
For the uninitiated, there were speculations about the 33-year-old England cricketer asking the franchise to remove the logo of SNJ 10000 which is a surrogate product brand of Chennai-based SNJ Distilleries were doing the rounds. Chennai Super Kings, who picked up Moeen Ali in the auction for INR 7 crores told IANS that Moeen didn't make any such request, however, they still agreed to remove the alcohol branding from his jersey.