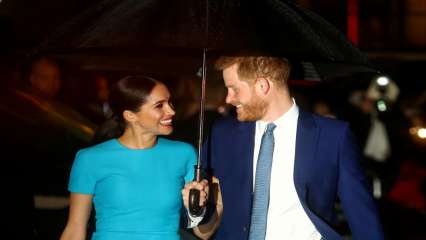 Prince Harry and his wife Meghan Markle late on Sunday gave their first major TV interview since stepping back from the British royal family a year ago. Meghan accused Britain's royal family of raising concerns about how dark their son's skin might be and pushing her to the brink of suicide, in a tell-all television interview that will send shockwaves through the monarchy.
Harry and Meghan's announcement in January 2020 that they intended to step down from their royal roles plunged the family into crisis. Last month, Buckingham Palace confirmed the split would be permanent, as the couple looks to forge an independent life in the United States.
Harry said they had stepped back from royal duties because of a lack of understanding, and he was worried about history repeating itself – a reference to the death of his mother Diana who was killed in a 1997 crash as her car sped away from chasing photographers.
Key takeaways from the interview between Prince Harry and Meghan – the Duke and Duchess of Sussex – and US chat show host Oprah Winfrey
1. In the hotly-anticipated interview which aired on CBS on Sunday at 8 p.m., Meghan accused the Royal family of being cold and racist, especially towards her and their son Archie, which pushed the couple away.
Meghan spoke at length about the issue of Archie's skin colour.
She said an unidentified member of the British royal family made comments about how dark Archie would be. She refused to say who made the remarks. Harry said he would never disclose who said it.
Meghan said the royal family refused to make Archie a prince. Harry said no member of the family spoke out against racist articles about Meghan.
"In those months when I was pregnant, we have in tandem the conversation of, 'He won't be given security. He's not going to be given a title', and also concerns and conversations about how dark his skin might be when he's born," she said, revealing that while the couple didn't refuse for the official photo when Archie was born, Markle was scared for his safety.
2. Meghan said she was so miserable as a royal that she considered suicide and self-harm. The 39-year-old, whose mother is Black and father is white, said she had been naive before she married into royalty in 2018, but that she ended up having suicidal thoughts and considering self-harm after pleading for help but getting none.
"I just didn't want to be alive anymore," she said.
3) The 36-year-old Duke of Sussex, who is still sixth in line to the British throne, spoke of his hurt at his father Prince Charles not taking his calls after the couple decided to step back as frontline royals last year.
"[I had] three conversations with my grandmother [Queen Elizabeth II] and two conversations with my father [Charles], before he stopped taking my calls," he said.
"It was, like, I needed to do this for my family. This is not a surprise to anybody. It's really sad that it's got to this point. But I've got to do something for my own mental health, my wife's and for Archie's as well, because I could see where this was headed," he said, in reference to the couple's decision to relocate.
They have since moved to California after formally stepping down from royal duties in March 2020, and it was announced last month that they would not be returning as working members of the royal family.
4) In the 90-minute-long interview, Meghan spoke about the moments she shared with the Duchess of Cambridge and Prince Williams wife Kate Middleton. Meghan revealed that the reports which had suggested that she made Middleton cry over "flower girl dresses" actually weren't true.
"The reverse happened," she told Winfrey when the latter asked if Markle indeed made Middleton cry and pointed out that the incident was the "turning point" in her relations with the British media.
5) Harry said his family had cut him off financially and that he had used money left to him by Diana. He said he was particularly hurt that security had been denied to him and his family.
"My family literally cut me off financially. I've got what my mum left me. Without that, we never would have been able to do this. I think she saw it coming," he said.
"I think she (Diana) would feel very angry with how this has panned out and very sad. But ultimately, all she's ever wanted is for us to be happy," Harry said.
6) Meghan said unidentified people in the Palace "were willing to lie to protect other members of the family. But they weren't willing to tell the truth to protect me and my husband."
Harry said Meghan had "saved" him from his trapped royal life. "I would disagree, I think he saved all of us. You made a decision that certainly saved my life," Meghan said.